Trailers and RVs Holding Tank
Septic Pumping Services
Professional Septic Pumping And Holding Tank Services For RVs And Trailers
Drive across the country with confidence and peace of mind by keeping your septic holding tank empty when there are no pump-outs in your location. Clearset Vac Truck Services provides septic pumping for over 1,000 RVs and trailers a year. When dump stations are not available, give us a call to assist with both black and grey water tank services. We can give you peace-of-mind and worry-free travel with our convenient on-site RV septic tank pumping service.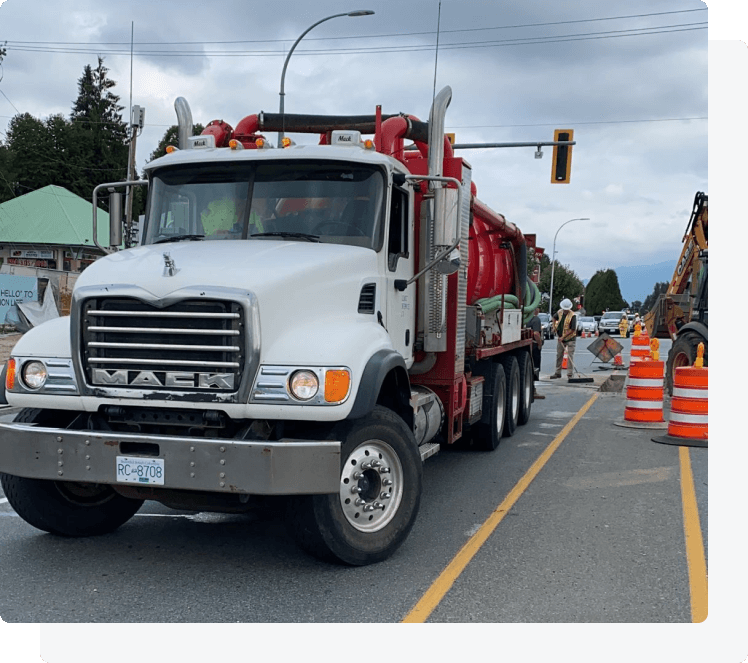 How Do A
Trailer And RV Septic Holding Tank

Work?
The septic holding tank of trailers, RVs, and moving homes are very different from the typical septic tanks at home. The main purpose of the RVs and trailers holding tank is to hold all the sewage water inside until you drain all the contents in a pump-out or get a septic pumping service. All the wastewater from your shower, toilet, and sink will flow to the sewage holding tank.
RVs and trailers' septic holding tanks are designed to break down any and all solid material it contains. It will then be mixed with the flush water, turning them into liquid form. Because of this, it will be easier for the mixed wastewater liquid to pass through the discharge valves when drained.
There 3 types of trailer and RV holding tanks based on the type of water they hold:
RV fresh water tank:

used for dry camping and not connected to utilities

RV grey water tank:

after using the sink or shower, water drains here until dumping

RV black water tank:

sewage holding tank, all sewage goes into this septic tank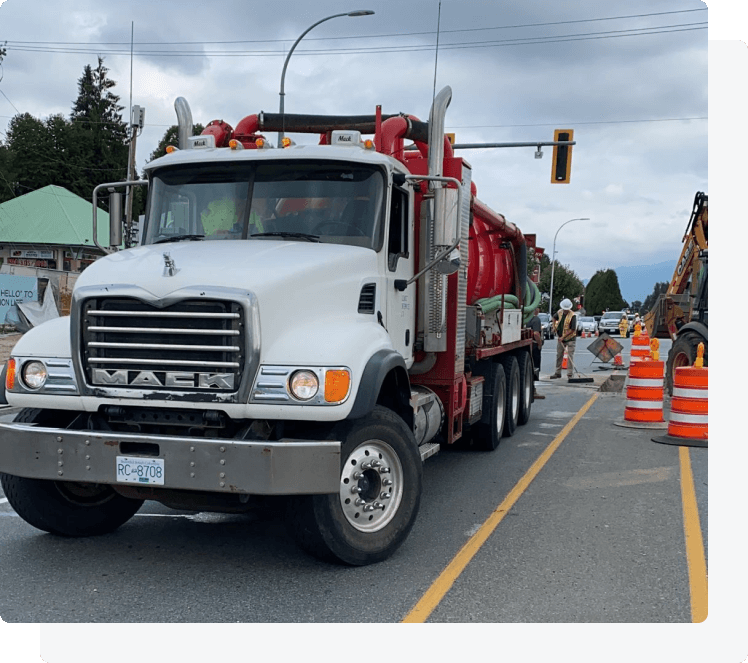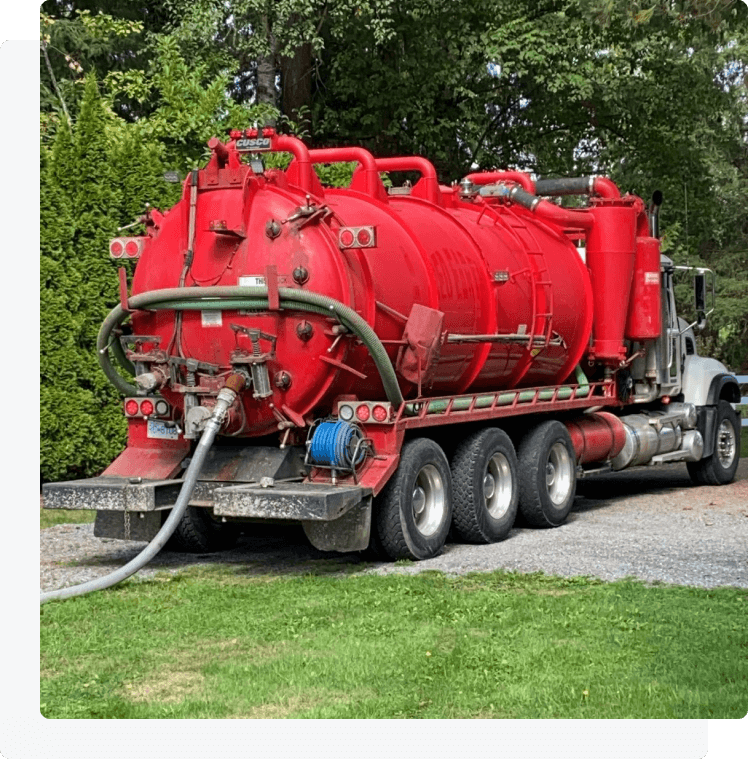 How Often Do Your
Trailer And RV

Need Holding Tank Septic Pumping And Maintenance?
When the rain or storm starts to hit or the snow starts melting, water will bring everything it can to your storm drain. This includes the following:
Septic holding tank capacity

Number of people

How much water is used
Each trailer and RV's holding tank has different capacities. How often you use your toilet, sink, and shower will determine how often you need holding tank septic pumping and draining. For example, some people use the camping amenities such as toilets and showers. This will prolong the need to have a septic tank pumping and draining.
If you do not use the restroom often with your black water tank and use non-contaminated water in water plants rather than throwing it in your grey water tank, your holding tank can go for 3 weeks.
We highly recommend familiarizing yourself with how your wastewater holding tanks work and monitoring how fast they get full. This is really important, especially for first-timers. Some holding tanks need draining every week, while some need more frequent septic pumping.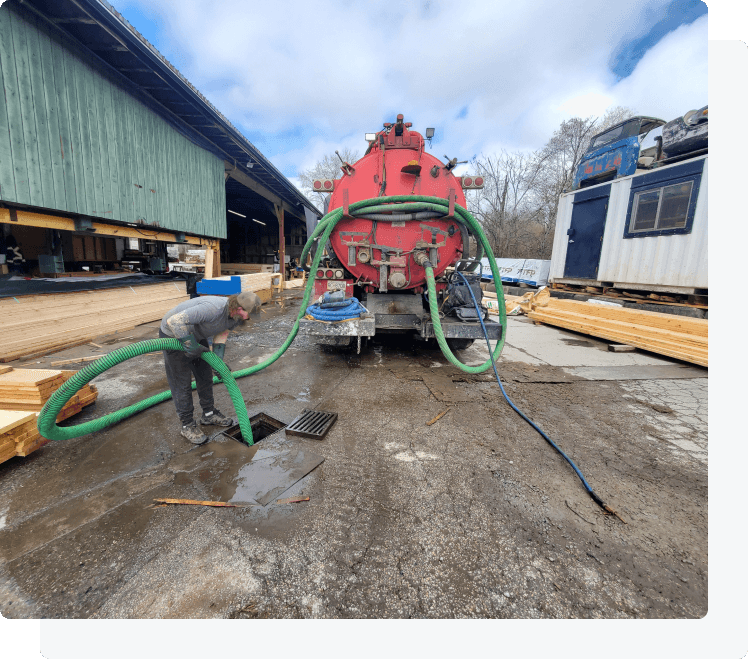 What Happens In A
Trailer And RV

Septic Pumping In A Pump-out?
Follow these steps when doing your own septic pumping yourself in a pump-out:
Park your RV and trailer as close as possible to the pump. It should be properly aligned.

Remember to wear clothes you don't mind getting dirty. We highly recommend protecting yourself and wearing gloves.

Get your connector hose and attach it to the pump station. Then, connect the other end to your RV or trailer's sewage holding tank's emptying valve. Make sure everything fits perfectly to avoid spillage and splatter.

Open the valve to release the wastewater. The valve is usually located at the base of your black water tank.

During the draining, you can also rinse your septic holding tank using a hose and connect it to your fresh water tank.

Lastly, close the valve and remove the connector hose.
The time it takes to drain your holding tank will depend on its capacity and size.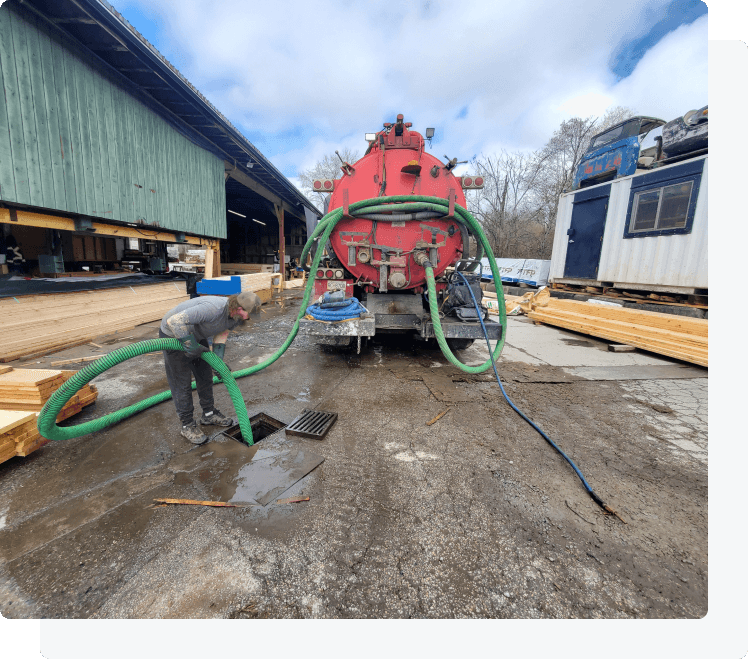 Why Is The Gauge Still Saying Full When My Holding Tank Just Underwent Septic Pumping?
There are several factors where this situation could happen. Here are a few:
If the RV and trailer have been used heavily but the wastewater wasn't drained or went through septic pumping. The wastewater will be sitting inside the holding tank leading to solid build-up. These solids will not be able to flow and pass the discharge valve. Because of this, it gives the impression that your sewage holding tank was not pumped (even though it was).
Also, if the tank gets full, solids can cover the gauge sensors which will show a false reading.
The best way to prevent this from happening is to either drive the RV around to mix up solids in the liquids before
Clearset VAC Truck Services
arrives or while we are on-site you can get a garden hose and spray water into the toilet to break up and wash away the solid build-up as we pump.
Why Do You Need To Hire Professionals Like Clearset For Your
Holding Tank Septic Pumping?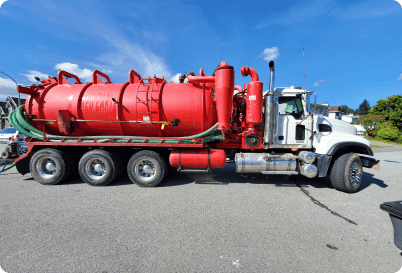 Proper septic pumping requires the right equipment and tools. You can't use just about any pump to handle all the wastewater stored in your RV and trailer's septic holding tank. If you hire professionals like Clearset VAC Truck Services, you won't need to think about the tools and equipment and purchase them yourself. We have all the necessary tools to pump, drain, and rinse your sewage holding tank properly. Even the stubborn solid wastes are no match for our powerful vacuum trucks!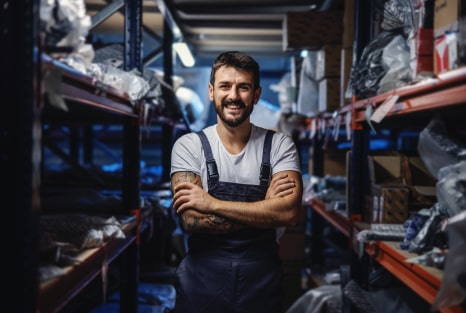 Clearset Enterprises' team of skilled, professional, and knowledgeable technicians are trained to handle all the equipment used to do septic pumping services. Our team comes fully insured and ready to drain your RVs and trailers' septic holding tanks when you need them and ready to provide septic maintenance all over British Columbia. You can be sure we are handling and treating your wastewater legally and up to standard. Clearset's dumpsites are all approved by the Ministry of Environment.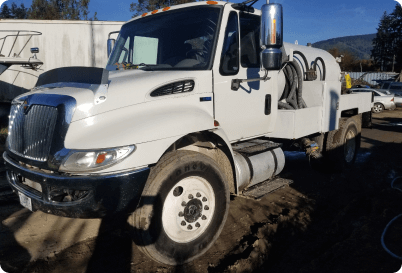 Clearset understands there are instances where your RVs and trailers are in a remote location in British Columbia where a dump station is not available. It will be very inconvenient and illegal to just dump out all the wastewater in your septic holding tank in locations that are not approved. This is where professionals like Clearset Enterprises can help. We have various vacuum trucks available all over BC to provide quick, affordable, and convenient septic pumping anywhere you are.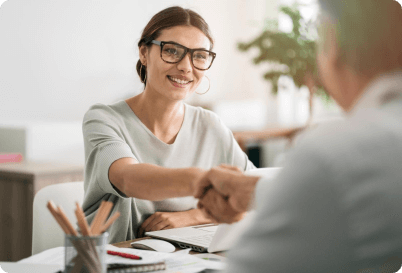 Clearset doesn't only focus on providing excellent septic pumping but also on friendly and polite customer service. All of our staff are trained and knowledgeable to assist you and answer all the questions you have regarding the services we offer. We are open and available 24/7. If you are unsure which of our septic pumping, cleaning, and maintenance services you need, our expert customer representatives will help you out. Contact us today for a FREE estimate!
For All Your Quick And Affordable RVs And Trailers' Septic Pumping Needs, Contact Clearset.
Do you have questions regarding our septic cleaning and maintenance services? Or are you ready to schedule a septic pumping for your RVs and trailers'
sewage holding tank
? Our friendly and knowledgeable customer service representatives are ready to assist you! Contact us by giving us a call at
(778) 825-1032
, sending an email at
info@clearset.ca
, or by filling out our
contact form
.
In case of a septic emergency, do not hesitate to get in touch with us. We are available 24 hours a day, 7 days a week. Let us be your choice for septic pumping services throughout British Columbia!